The Little Black Bestiary: "A Dragon's Treasure"
A downloadable episode for Windows
Welcome to the multiverse's #1 dating site! Where you can meet the monster, human, alien, robot, demon, elf, or other sexy single sapient being of your dreams!

The Little Black Bestiary is an episodic dating sim, with each episode being a story about a human who joins an unusual specialty dating site and romances a 'monster' (Or other different kind of non-human fantasy race.) Most episodes (this one included) contain NSFW content and are not suitable for players under the age of 18.


This is our 'pilot episode,' so to speak, in which the player goes on a date with Isabel, a dragon-girl with a massive small otaku streak. Can romance bloom in the local comic shop?

This episode is now officially out of beta with it's 1.0 release!
The next episode is already in development, be sure to check the devblog for details.

For early access to test builds and a say in the kind of content we produce for our future episodes, please consider joining our Patreon! The game's free though so it's basically just a tip jar to potentially fund some extra content.

We're currently holding a public vote for the character design of the 2nd episode's date. You can cast your votes here: https://www.patreon.com/posts/episode-2-design-19818208 The vote is open to the public and although a Patreon account is required, you do not need to be a patron or contribute any money to vote.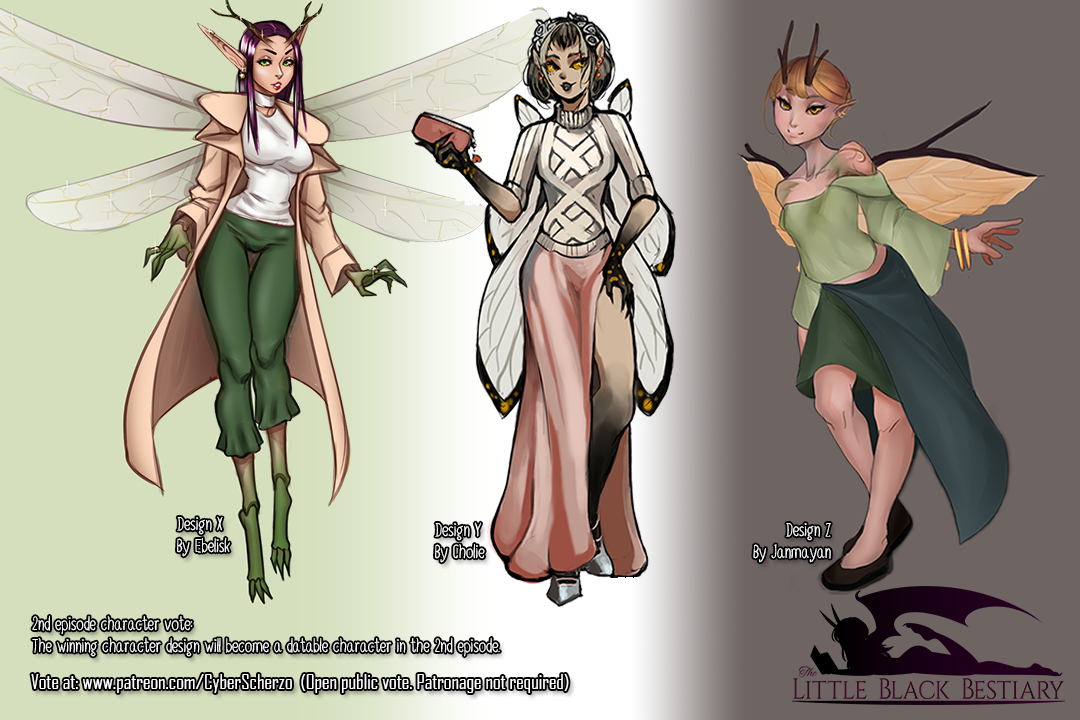 Download
Click download now to get access to the following files:
LBB_ADragonsTreasure_v1_0_WIN.zip
300 MB
Comments
Log in with itch.io to leave a comment.
I would really like to see how the realationship between the MC and Izze progresses after the first date.
Found this on Newgrounds and thought I'd show some support here. The writing is amazing, the art is beautiful, the sex scene was enthralling, and I legitimately loved every part of the experience that was playing this game! Keep up the amazing work!

I really like all of this game. The art is nice, the history is really interesting (maybe the worst part is the duration) and the dragon girl is so cute.
I need ask this, have any plans to expand the history between the dragon girl and the MC? or its only one chapter for girl? Because i want see more of him T_T
Please continue with your great job! :D
Great game, I would really like to know where I could find the music.
I had no idea what this site was until I played TLBB, and only decided to make an account to show my appreciation to the dev team for making such a great game. This title is really nice in my opinion, both the artwork and the story so far were entertaining and kept my attention. My only "issue" is that I'd like the episodes to be a bit longer... though that's likely only because I could play a game solely designed around Izzie and getting to know her better and hey more h-scenes wouldn't be ignored either ;) Keep up the good work you guys, and thanks for an awesome game. <3 Izzie
Are all the datable characters going to be female or will there be some male or NB too?
Is that something you'd be interested in seeing?

The short answer to your question is: "maybe."

The option is on the table. You've likely noticed I've avoided calling it a "monster girl" game and just calling it a "monster" game because that's something under consideration. The plan is to decide which characters will be dates, and in which order, via popularity votes. I can say for sure that some characters in both those categories will get added to the character polls at some point, but they may or may not win the votes.

There are 100% going to be male monsters and NB characters as NPCs and side characters even if they don't win the votes for becoming dateable.

Likewise, the option to be female or NB is also on the table, but it's both cost and labor-intensive to have gender options on every chapter, (Requires alternate CGs on several scenes) so to what extent we prioritize those options will also be based on popularity polls. That said, playing as a female and dating a monster boy; or dating an androgynous, genderless, or hermaphroditic monster/alien/robot; or having f/f, m/m whatever/whatever pairings are all scenarios I can see cropping up in the future.

Including those options might alienate some fans who would prefer we focus only on monster-girls; but there are plenty of other monster girl games that do so, so I'm personally interested in finding out how much interest there would be for expanding on the range of available content.
I would be interested in both playing as and dating female/NB characters (I get that the playing as can be more of an issue, but even if it's not reflected in CGs but only as a pronoun choice that would be OK for me). I'm just not interested in romance games that are either BxG or GxG exclusively. For these kind of games, I mostly play otome (GxB) but I do occasionally play BL/yaoi (BxB). Totally understand that that might not be this game (that's why I asked) and if it's not a direction you want to go in.
This is my situation as well. I'm glad someone already posed the question, because I was just about to ask!
Good Premise, game froze on me on the comic book store. But the girl is cute, I'll be waiting for more.
Thanks! I'll look into the freeze. Could you possibly elaborate on when exactly the freeze happened so I can pinpoint the possible cause and fix it? If it was near the beginning or end of the scene (or what specific line of dialog it occurred on if possible) if it was on clicking a specific object or pressing a certain button or etc.

More cute girls (with hopefully less freezes) to come soon!
The Little Black Bestiary gameplay .
I'm waiting for the continuation of the story.
Enjoy ! \ (•◡•) /
I've really liked from this game so far. Looks really promising, specially for a xenophilic like me. :)
I wonder if you'll be able to date goblins, gnolls, nekomatas, najas, spectres, ghosts, "chubby" and "thick" non-humans and even skeletons (because why not, haha) in the future.
I also liked from how the character reacts accordingly to your answers, so being a pervert or a manipulative jerk will get you nowhere in this game, heh.
Haven't found any bugs so far but I wish there could be an options menu, where you can save and load your progress and to adjust the text speed. Also, make the gallery an unlockable feature where you can only see the pictures of a character after you complete their path, like "date X to unlock his gallery", "date Y to unlock her gallery", "date Z and B to unlock this gallery", "do this and that to unlock this/those galleries" and so on.
Anyway, keep up the good work, and have a nice weekend. ;)
Thanks for playing!
We're hoping to have a huge variety of available dates, both in races and bodytypes eventually. We have some concept art for some potential future dates we're going to be trickling out, though we're focusing efforts on getting this first episode done first; and a dragon seemed like a pretty good starting point.

Some options settings will be implemented in the next build. Unlockable gallery is also on the list.
Thanks for your answer.
Oh, that's great to know, and I understand: this episode was fun, and I see how you're taking your time to make a good and enjoyable VN to play through. I respect this, and I'll be looking forward to the improvements. Again, keep up the good job.
Oh, nice. Thanks for taking note of my suggestions. Hope you have a nice week. :)