The Little Black Bestiary: "A Dragon's Treasure"
Public Beta Build is Live!
---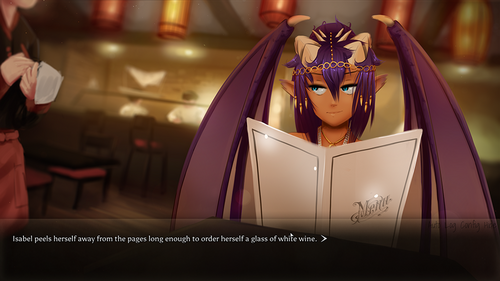 Episode 1 is now in beta!
You can play through the first episode with Isabel through to the end!
(Including the spicy 18+ scene in her apartment; therefore from this release forward this is officially 18+, NFSW, etc.)
I'm pretty eager to get this one out in the wild for a last round of playtesting and polishing for the 'true' final release; so I'm just going to release it straight away. I apologize in advance for any missed bugs and such.
Roadmap to 1.0:
My next major priority is making changes needed for cross platform compatibility. everything up until now has been windows only, but for the next build, I'm hoping to make the game HTML5 compatible and playable online. I'd also like to put out Linux and Mac compatible offline versions.
Beyond that the general experience needs some polishing. I plan to run through the script making small corrections to the reading experience: Grammar/wording edits, timing of pauses, adjusting text breaks, tweaking the animations of backgrounds and sprites, etc. I'd like to add some more sound effects and generally improve the audio experience as well.
Graphically, there are still some placeholder and unfinished graphics (The unfinished apartment background likely being the most obvious) that will be replaced.
There will be some improvements to the menu UI and configuration options. Unsure as to what extent, but the current one isn't 100% HTML5 compatible which is impeding the first goal; but while I'm at it I might be able to add some additional options; perhaps even a more robust save/load feature.
Extra features: Right now the only one I'm really looking at adding is a gallery viewer for the game's CGs; and perhaps some extra bonus concept art.
Get The Little Black Bestiary: "A Dragon's Treasure"