The Little Black Bestiary: A Playful Proposition
The Little Black Bestiary: A Playful Proposition
A short erotic story about two friends whom challenge each other to a video game strip bet. This game is an episode of The Little Black Bestiary, a erotic VN anthology series about romantic relationships between humans and 'monsters,' with characters inspired by all manner of fantasy and mythology. This content contains explicit sex scenes and should not be played by minors or those whom do not wish to view such content.
Tainara is an international college student from Brazil, a music major, a DJ, a gamer with a huge competitive streak, and perhaps most noticeably, she's an iara. If you want to learn more about her, be sure to check out her Little Black Bestiary profile, or just play the game!

The minigame is a fully fleshed out playable game with 7 playable characters all with unique mechanics and special attacks. It was designed to simplify the feel of a fighting game into something easily approachable, so we mixed fighting game mechanics into an arcade style ping-pong/tennis kind of game.
Since we also wanted to evoke the feeling of a "couch-VS" gaming session, there's interaction buttons to trash-talk or distract Tainara mid-match, which affects the way she plays the game against you. The scenes you ultimately earn are based on your final win/loss count in the video game strip bet, so if you happen to be very skilled at this type of game, you might even want to loose on purpose a few times and see what happens! There are four "base" scenes with variations.


There is also an "EZ mode" and "Text Mode" available for those whom simply want to enjoy the story and view all the erotic scenes but are having trouble winning at the minigame.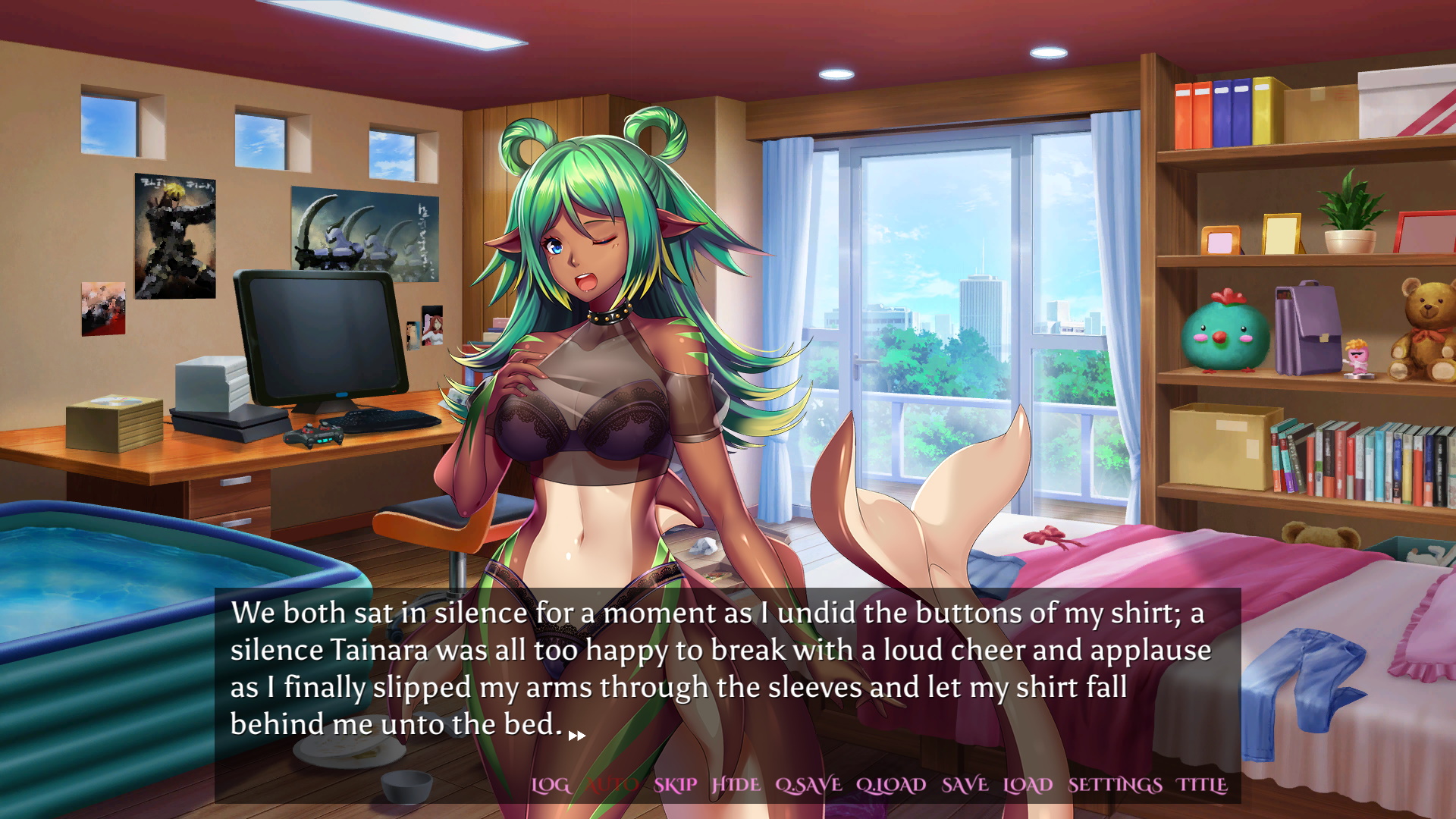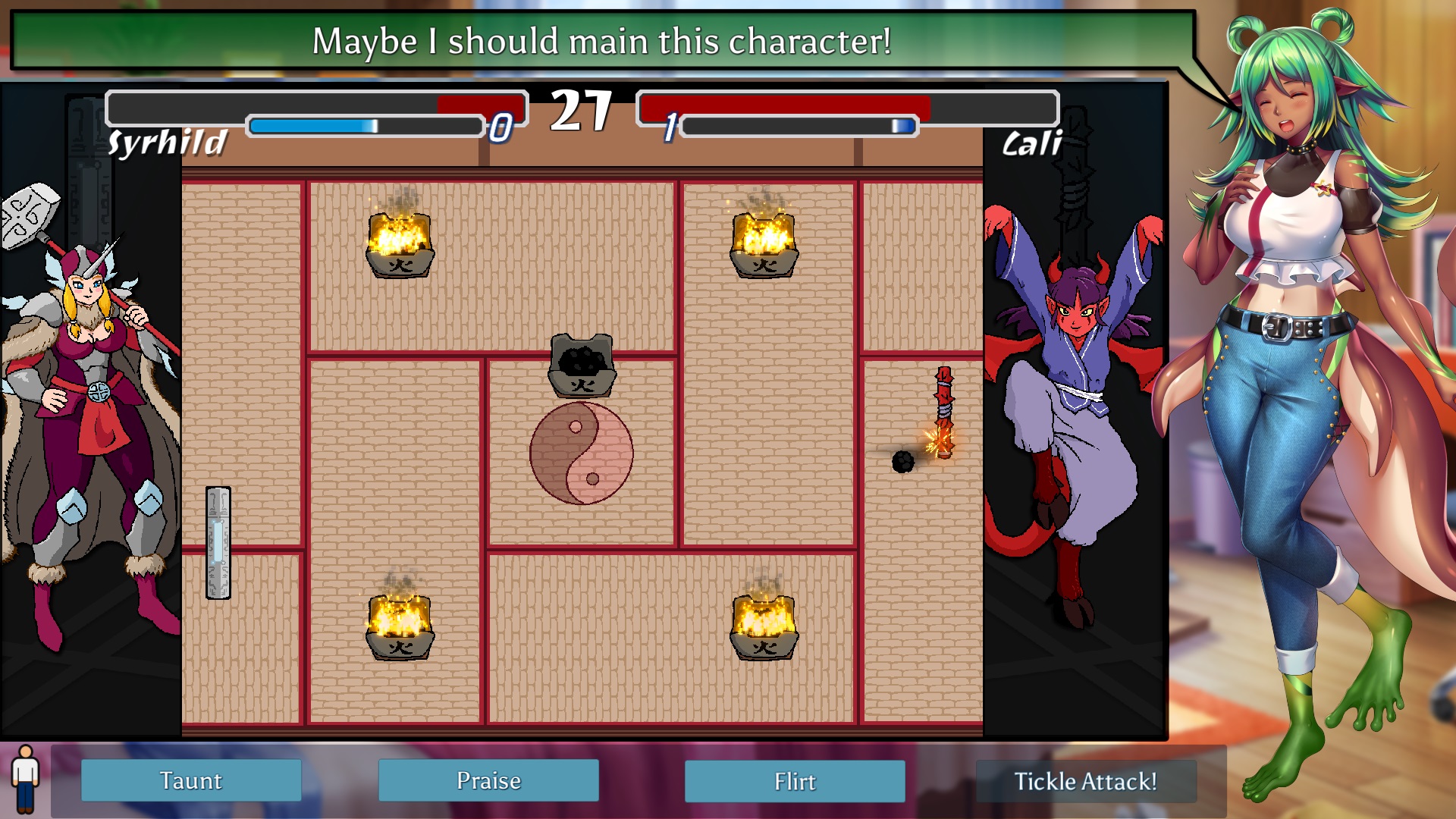 | | |
| --- | --- |
| Status | Released |
| Platforms | HTML5 |
| Rating | |
| Author | CyberScherzoFF |
| Genre | Visual Novel |
| Made with | Unity |
| Tags | 2D, Anime, Arcade, Erotic, Male protagonist, minigames, Monsters, Romance, Singleplayer, Slice Of Life |
| Average session | A few minutes |
| Languages | English |
| Inputs | Keyboard, Mouse |
Download
Click download now to get access to the following files:
Version1_6 Windows.zip
300 MB
Comments
Log in with itch.io to leave a comment.
Game won't load. Unity loading bar gets to about 90% then it freezes. I left it for about an hour, tried several times. Seems broken.
im currently stuck trying to get the bottom 3 scenes of page 1 anyone know how to unlock them?
I also got to an animated video that just infinitely loads.
Not a PC problem, my GTX 1060 and I7-7700 should be doing just fine
I got to the choice for an animated video but it just infinetly loads.
The centaur was by far my favorite with the ability to catch the ball and release it, but the zen garden map was my bane.
any complete CG walktrough?
Not quite, but the scene variation you get is dependent on who wins the strip bet and how many clothing items the winner still has at the end.

So there's basically 4 major variations
1. You win with 1 loss or less
2. You win with 2 or more losses.
3. You lose but have 3 or more wins.
4. You lose with very few wins.

The next update is going to have an option to skip the minigame, so that people who want to unlock every possible post-match scene variant have an easier time.

The AI is way to perfect, literally impossible to beat her after winning twice...
Did you turn on the easy mode option? If not that should help a lot. It gives you double health, gives Tainara 40% health and you start the fight with a bunch of special attack meter to get free shots in.

Also, what character(s) are you trying to play as? (might also be a character balance issue I need to look into)

I may be able to go back and tune it some more or give easy mode a larger advantage but a few tips:
Using taunt and the tickle attack options too much makes her AI difficulty harder in later matches. Likewise using the Praise/Flirt options (especially praise) maintains her going easier on you a bit longer. There IS an AI level that's actually designed to be literally unfair, that should only trigger if you *abuse* the taunt options; if you see her using MOLA you've triggered that. (Always a chance I could have a bug that triggers that accidentally)

The most exploitable weakness the AI has is how it handles special attacks, since it usually can't avoid both the attack and the ball at the same time.

I didn't have a large amount of feedback on the difficulty pre-release so it's hard to balance. Getting a full win streak is supposed to be hard, but not impossible and I know at least one patron managed it; but if I get a lot of feedback like this I may see what I can do to dumb down the AI a bit more.